Feb. 21, 2015 - FFHS Tigers Boys Basketball team won Eastern Maine Class D Championship at Cross Center in Bangor. The Lady Tigers basketball team placed runner-up in Class D. To see updated pictures of the boys and girls teams and FFHS cheerleaders in Bangor, click here. Story and news video to be uploaded this week.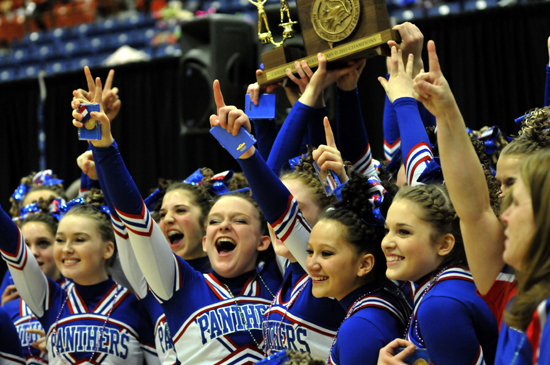 The Central Aroostook Panthers Cheerleaders won the State Class D Championship Title in Augusta on February 7.  This is their 12th State title—seven Championship titles in the past eight years.  See story here.  A WFFJ-TV newscast of this event can also be viewed here.                                      photo/David Deschesne
Local News
FFHS Boys and Girls Varsity Basketball photos have been updated for 2015. Click on "FFMHS Sports" in the left sidebar of this page for index of photos
February 18, 2015 - Flu Vaccine for Wrong Strain, Again
February 4, 2015 - Fort Fairfield Journal Television Releases First DVD
February 4, 2015 - WHOU Donates to Aroostook League Scholarship Fund
February 7, 2015 FFHS Varsity Cheerleaders compete at State Championships. Click here to see more photos!
Charlene Argraves got a full size valentine card from her husband, Oscar written in the snowbank in front of their house for Valentine's Day.    photo/David Deschesne
Students with Fort Fairfield Elementary School's Gifted & Talented program show off their homemade paper mache masks.  Animals represented are: Raccoon, Horse, Deer, Lion, Bear, Zebra and Koala Bear              contributed photo
April 14, 2015 - Amateur radio licensing examinations will be offered in Washburn on Tuesday, April 14th at the First Baptist Church and will start at 6:00 PM. Walk-ins will be accepted. Examinees must have 2 forms of positive identification and their Social Security number. Licensed amateurs trying to upgrade must have in their possession the original license and any original certificates of completion and a clear photocopy of each. Contact the team VE leader (Steve N1NXU 227-2473) in advance if special exam facilities are required or proposed. The cost is $15.00 (exact cash please). For further information contact Ivan at 476-0000 or WK1W@ivanshapiro.com
Maine News
February 18, 2015 - Maine Legislature Considering Rescinding Property Tax Credit
December 10, 2014 - Former Navy Seal Faces Domestic Violence Charges in Caribou Superior Court
October 2, 2014 - ReEnergy to Reopen Ashland Facility
August 20, 2014 - Mainers Opting Out of Vaccinations at Increasing Rate
National News
February 18, 2015 - I.R.S. to Pay Tax Refunds to Illegals Who Didn't Pay Taxes
January 27, 2015 - Sandy Hook Lawsuit Author Arrested
January 7, 2015 - Government Creating Fake Facebook Pages from Confiscated Photos
January 3, 2015 - Nobody Died at Sandy Hook: Event Was Just a FEMA Drill, Shanley Civil Lawsuit Says
November 12, 2014 - Current Ebola Virus Not as Deadly as Purported
October 1, 2014 - FBI Says No One Killed at Sandy Hook
September 17, 2014 - FBI Agent Jailed for Exposing Corruption in CIA, White House
Recent Stories
January 21, 2015 - FFMHS Found to be "Drug Free"
January 7, 2015 - FFHS "A Night of Basketball" Enters 20th Year
January 7, 2015 - TAMC's First Baby of 2015
January 7, 2015 - Perham Planning Board Chairman Resigns Position
December 24, 2014 - Fort Fairfield Wind Power Committee Switches Gears on Ordinace
December 24, 204 - Fort Community Center On Track for LED Lighting Upgrade
December 10, 2014 - Fort Fairfield Remembers JR McGillan in Lights of Life Tree Lighting Ceremony
December 10, 2014 - FFHS Graduation Rates Improve
December 10, 2014 - Fort Fairfield Welcomes New Marketing Director
November 26, 2014 - Veterans Memorial Inauguration Celebrated on Veterans Day
November 26, 2014 - Fort's Wind Power Technical Review Committee Meets to Choose Sample Ordinance
November 12, 2014 - Fort Fairfield Journal Expands Into Online Television Webcasting
November 12, 2014 - Harvest Market Celebrates 10th Year Anniversary
October 29, 2014 - Fort Fairfield Sees Increase in Home School Students
October 29, 2014 - Can Fort Fairfield Really Afford Commercial Wind Power?
October 29, 2014 - FFHS Golf Team Competes in State Class C Championship
October 15, 2014 - Public Hearing Held to Discuss Wind Power Moratorium Ordinance
October 15, 2014 - TAMC Conducts "Active Shooter Drill"
October 1, 2014 - Town Takes Immediate Action on Redemption Center Building
September 17, 2014 - Bureau of Labor Fines Fort School System
September 17, 2014 - Local Catholics Making Rosary Beads for Students in Dominican Republic
September 3, 2014 - Commercial Wind Power Was Main Topic of Discussion at Fort Fairfield Town Council Meeting
September 3, 2014 - Doughty's Redemption Center Building to Be Deemed "Dangerous" Structure
August 20, 2014 - Mazzuchelli Retires from Caribou Rec. After 39 Years
August 20, 2014 - Strange Soap-Like Substance Appearing on Maine Roads
August 20, 2014 - The Cubby Fund's July Hero of the Month: 13 Year Old Roger York III from Fort Fairfield
click here for archives of past stories
The audio recordings of most current Fort Fairfield Town Council Meetings are archived at the "MP3 Audio Files" in the left sidebar on this page.
SCHOOL VACCINE INFO
It is not mandatory for your child to receive potentially dangerous, toxic vaccines in order to attend public school. Click Here to download an immunization exemption form from the Maine Department of Education
Click here for great visual images that put the $16+ trillion National Debt into perspective!
Special Video Presentation:
"There Will Be No Economic Recovery: Prepare Yourself Accordingly"
Presented by Stefan Molyneux