Back to Fort Fairfield Journal      WFFJ-TV      Contact Us
New Housing Authority Apartments Will Serve Moderate Income Fort Fairfield Families
By:  David Deschesne
Fort Fairfield Journal, August 30, 2017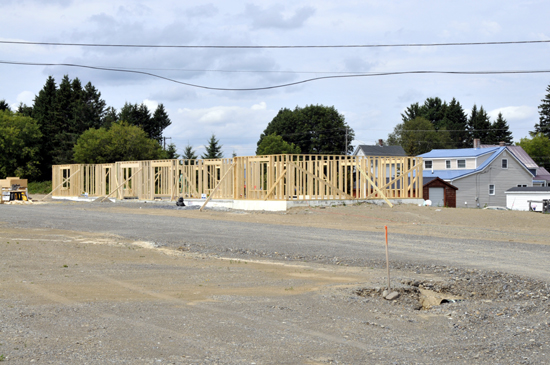 The Housing Authority of Fort Fairfield (HAFF) is currently in the construction phase of a new apartment complex on the site of the former Mountain View Trailer Park, on Presque Isle Street in Fort Fairfield.
   The project includes the building of two duplex units, each with two 2-bedroom units, with one car garages and storage rooms. "The units have an open floor plan for the living, dining and kitchen space; an ADA-compliant bathroom with washer & dryer connections, and all kitchen appliances to include a microwave and dishwasher," said HAFF Executive Director, Wayne Troicke.  "Each unit will have a front porch and a 10x12 deck out back.  All utilities, trash removal, snow removal, yard care, A/C and 24 hour maintenance will be included in the $1,100 per month rent."
   No local, state or federal tax dollars are being used for the project and the project will pay normal property taxes.
   The HAFF has been developing and providing housing for low income families since 1950.  However, These apartments are not "low income." They may be rented by people from the area who do not qualify for Low Income Housing.  "This is in line with the Housing Authority's charter to assist in developing housing for moderate income families, as well," said Troicke.
   To qualify to rent these units a person must be 62 years of age or older  and be above 80% AMI (1 person—$31,200; 2 person—$35,800).
   In order to keep the funds in the County, only local contractors are being used on the project, such as:  McGillan, Inc., Duane Thompson Masonry, Underwood Electric, McGlinn Plumbing & Heating, and Tiny Dreamers Inc (Sub contracting with Ant Hill Home Improvements).
   Troicke says the complex will take advantage of newer technologies for lighting and heating with 100% LED lights, heat pumps for heating and air conditioning and propane boilers for domestic hot water heating and floor radiant heat in the cold months.
   Cherry Lane Apartments was designed by B.R. Smith & Associates and is the first development of its kind for the HAFF.
   The apartments are expected to be completed in November, 2017.  Those interested in acquiring more information may contact the Housing Authority of Fort Fairfield at (207) 476-5771.