This online version is an abridged copy of the bi-weekly printed copy of Fort Fairfield Journal. 
For complete version, pick up a printed copy in stores now, or subscribe.
The Fort Fairfield Journal is the only local newspaper in Northern Maine NOT owned by the Bangor Daily News
Munstermobile.  Charlene and Oscar Argraves along with "Grandpa" from the 1950's hit TV show The Munsters check out Grandpa's coffin dragster from that show.  They met up at the Rods Rides and Relics Car Show during the 163rd annual Northern Maine Fair.  The car show was held last weekend in The Forum and featured other TV cars from the Dukes of Hazzard and Knight Rider.  photo/David Deschesne
Local News
Fort Fairfield Town Council Meeting April 19, 2017 audio file now available. Click here for index.
July 19, 2017 - Presque Isle Landfill Seeks to Absorb/Restructure Tri-Community Landfill
July 5, 2017 - Michael Kelley Retires After 45 Years in Banking
July 5, 2017 - Final Two Bodies Recovered From Square Lake
June 21, 2017 - Children's Playhouse Newest Addition to Memorial Garden
June 7, 2017 - Voters Approve 2017-18 School Budget
May 24, 2017 - Fort Fairfield Schools Seek an Additional $200,000 From Local Taxpayers
May 24, 2017 - "Elvis" Visits Presque Isle!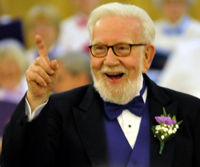 May 10, 2017 - At 80, Dan Ladner Conducts Caribou Choral Society for Half of His Life
Chef Rob Ottaviano speaks with attendees of the Down East magazine World's Best Lobster Roll Competition about using Salmon Brook Valley maple syrup as one of his unique ingredients in his lobster roll recipe. Inset:  Rob Ottaviano (center) with Jason Carter (right) and Nate Picard (left). Jason and Nate helped Rob prepare, assemble, and serve the lobster rolls for the competition.     NMCC photos
Upcoming Events
Knights of Columbus (Fort Fairfield) Bingo every Saturday Night
July 28 – August 5, 2017 - Northern Maine Fair
Maine News
May 10, 2017 - Maine Adopts Mark of the Beast "Real ID" Scheme
April 12, 2017 - Governor LePage Supports "Mark of the Beast" Style ID System
March 15, 2017 - Congressman Poliquin Pushing to Have Maine Adopt "Mark of the Beast"-Style Track and Trace Control Grid
February 15, 2017 - Statewide Coalition of Maine Businesses Urges Repeal of 3% Tax Surcharge
October 12, 2016 - Overall, Maine Crime Rate Drops in 2015 From Previous Year
October 12, 2016 - Gov. LePage Receives Highest Marks on Fiscal Report Card
National News
March 29, 2017 - Federal Income Tax Jurisdiction Explained
March 15, 2017 - Hacked "Smart TVs" Used to Spy on Unwitting Viewers
February 15, 2017 - Democrat Rent-A-Mobs Demand Muslim Terrorists Be Admitted Into U.S. Without Being Checked
February 1, 2017 – Trump Makes Good on Campaign Promises
November 23, 2016 - Michael Moore Calls for Eliminating 47 States from Future Presidential Elections
November 9, 2016 - U.S. Dollar Losing World Reserve Currency Status
August 31, 2016 - Maine Land Giveaway to Benefit Globalist Depopulation and "Re-Wilding" Agenda
August 31, 2016 - Maryland Public School to Allow Boys and Girls to Sleep Together in Hotel Rooms on Overnight Field Trips
Legal Notice to Maine Congressional Delegation re: Illegal and Fraudulent Federal Income Tax.  The Federal Income Tax is being illegally enforced outside of federal jurisdiction. Click here to read the full legal notice.
Click here for 2017 Jr., Teen & Miss Fort Fairfield pageant photos
Click here for photos of the 2017 Little Miss/Pre-Teen Miss Fort Fairfield Pageant

Suns & Shields Christian Inspirational Writings by Rachel Hamlin
Selected Editorials from Dr. Katherine Albrecht, Ed. D.
Recent Stories
April 26, 2017 - Fort Schools Struggling With Performance Based Education Grading System
April 12, 2017 - Local Nine Year-Old Participates in National Golf Competition
March 15, 2017 - Backstage at the MacMaster-Leahy Concert
March 1, 2017 - Community Bandstand to be Rebuilt as it Was: But Should it Be?
March 1, 2017 - GSA vs. FFHS Game Reunites Former Band Director With Fort Fairfield Acquaintances
February 1, 2017 - Chappy Clark Recognized for 1,000 Point Milestone
January 18, 2017 - Cooking Matters at the Store Tour Held at Hillside IGA
January 5, 2017 - Fort Fairfield Community Bandstand Collapses
January 4, 2017 - Fort Fairfield Adopts Free Municipal Land Program to Attract New Businesses
December 21, 2016 - Nobody Injured in Fort School Bus Mishap
December, 21, 2016 - "Hellivision" Documentary Video features WAGM-TV8 in cameo appearance
November 23, 2016 - Maine's Minimum Wage Increase to Cause Rising Prices and Unemployment
November 9, 2016 - Yoder Repairing Clock with Ties to Lincoln War General
October 26, 2016 - Construction Begins on Fiber Optic Internet Line in Fort Fairfield
October 26, 2016 - Over Three Fourths of Fort Fairfield Students Do Not Participate in Harvest
October 26, 2016 - Pattee Brook Pedestrian Bridge to be Replaced
October 26, 2016 - ReEnergy Celebrates National Biomass Energy Day
October 12, 2016 - Fort Fairfield Awarded StormReady Community Designation, Again
September 28, 2016 - Fort Fairfield's Farmer's Market Celebrating First Season
September 28, 2016 - Fort Fairfield Town Council Discusses Referendum Question #2 with a "Yes on 2" Advocate
September 28, 2016 - Fort's 2016-17 Mil Rate Holds
September 14, 2016 - New Jersey Pastor Sends Words of Support to Governor LePage
click here for archives of past stories
The audio recordings of most current Fort Fairfield Town Council Meetings are archived at the "MP3 Audio Files" in the left sidebar on this page.
SCHOOL VACCINE INFO
It is not mandatory for your child to receive potentially dangerous, toxic vaccines in order to attend public school. Click Here to download an immunization exemption form from the Maine Department of Education.
Click here for great visual images that put the National Debt into perspective. Also be sure to check out the awesome video at the bottom of that page.
Special Video Presentation: "There Will Be No Economic Recovery: Prepare Yourself Accordingly"Presented by Stefan Molyneux