Suns & Shields

By Rachelle Hamlin

Read more of Rachelle's editorials: Suns & Shields Index page

Eternal Government Just Is

By: Rachelle Hamlin

Fort Fairfield Journal, April 30, 2014

The major fault inside the idea of creating a One World Government is that it is the brainchild of atheists. Atheists demonstrate ignorance of the fact that a One World Government already exists. An atheist would deny that it is ruled by Jesus Christ, a King who is acting regent for his Father. They can't even conceive that it is actively controlled by his Prime Minister, the Holy Spirit. Nor do they have the smarts to understand that it has been the one stable and surviving government in the world since day one of year one, the day the world celebrates as Christmas. So they run around in circles yelling like Henny Penny that the sky is falling and that everyone needs to heed their hysteria. The sound of their own voices is so loud in their own ears that it brings on a corresponding blindness to any other point of view.

Divine government does not require taxes to operate because being everywhere at once and on

-call 24/7, the Holy Spirit handles the entire bureaucracy of the Kingdom all by Himself. He commands myriads of angels eager to do Him the smallest or greatest service out of sheer love. This Omnipresence alone cannot be matched by the usurpers and pretenders who offer Godless solutions to us endlessly under thousands of names that they constantly invent. Now they promise us jobs, jobs and more jobs? That really amounts to money, money and more money; their death-dealing god. They get it all back anyway by what they charge you to render their useless, self-serving services.

Atheists also perpetuate a curse that was done away with at the Cross where our King was sacrificed. The world had been under the curse that we would have to live by the sweat of our brow. Brother, sister, how often does your brow sweat in order for you to stay alive? That curse was lifted. Divine government doesn't promise more jobs, more work. Its message is rest for the weary, healing for the broken and gifts without limit. Its promise is the evidence that loaves can be multiplied in the Kingdom ruled by Christ. Health, wealth, and wisdom are actual, tangible blessings its citizens enjoy.

Atheists are blind to this fact. They are a bunch of malcontents at the core. They find fault with everything that they see and because they see misery everywhere they look, they become antagonists, either passively as followers or actively as leaders. They come up with ways to live off of your misery and they foist their misery onto others. There is no unity among the lot of them even though they can unify efforts to get things done; recent elections prove this. So does the (American?) Education Association that dominates public education of children. We must not be fooled into thinking that this disturbs the status quo of Divine Government. These are the tares Jesus explained that would be planted in his world, his land, his territory, his possession lent to us for a season. He plans to uproot them as soon as his harvest comes to fruition.

Malice is the only reason citizens of Christ's Kingdom suffer. Jesus said; the kingdom of G

-d suffers violence because violent people attempt to force their government on it. Atheism is alien to us. Those alien ones constantly try to force us to deny the peaceful Kingdom principles that produce all our happiness, stability and joy. They do not see that we would become as insane as they are if we for a single second left G-d's government to be like them or to adopt their ways. So, they get more and more professional, more powerful, more concentrated in efforts to do away with Divine Government. This is how they came up with the idea to erect their own One World Government and try to force everyone on the planet to be a part of it.

Dear brother or sister atheist reading this message; it is impossible for you to succeed. The Kingdom of G

-d and of His Christ was established long before you were born, long before. Also, it is predestined to exist forever. It will only get better and better as time passes. No weapon that is formed against it can prosper. It will endure down throughout all ages. All goodness belongs to it. It is a kingdom without end that operates on the principles of Love, Faith and Hope. It endures all things that are thrown at it in the vain attempt to destroy it. Founded on truth, love and mercy, Eternal Government just is. If anyone has another hope it will implode to stardust and vanish.

There will be no One World Government other than the Kingdom of Our Lord and Savior, Jesus Christ. Alien believers are 2014 years too late with their coo

-coo attempts to create a substitute for it. G-d made Christ the King. Deal with it.
BOOKMART
Used Books, Movies and More!
Copy Print Fax
252 Main Street
Fort Fairfield, Maine
(207) 472-3900
Debt Collector Lawsuit Defense
Educate Yourself with our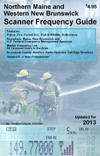 Northern Maine & Western New Brunswick Scanner Frequency Guide
2013 Edition
- Newly Revised
- Over 50 pages
- Emergency Government
Frequencies
- All Licensed Business and
Government Radios in Northern
Maine
- Aroostook County Ham Radio
Call sign Directory!
Available at:
BOOKMART, Ft. Fd.
Hillside IGA, Ft. Fd.
Buck's Market, P.I.
Bradley's Citgo, P.I.
Stew's Radio Shack, P.I.
Grave's Shop & Save, P.I.
C.J.'s Service Center, Caribou
Mars Hill IGA, Mars Hill