Back to Fort Fairfield Journal      WFFJ-TV      Contact Us
Aroostook County Native and Long Time Public Servant to Seek the Office of Sheriff
By:  David Deschesne
Fort Fairfield Journal, February 28, 2018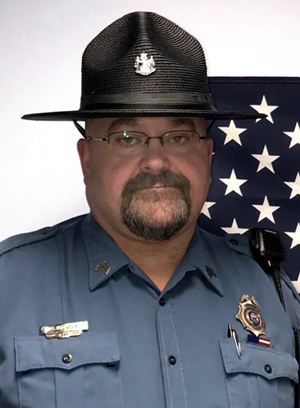 Michael Montpetit, from Ashland has announced his candidacy for the highest law enforcement office in Aroostook County-that of the County Sheriff.  The son of a career military man, he was born on Loring Air Force Base and grew up in Masardis.  
   Montpetit has spent his life serving in Aroostook County.  He volunteered as a Cub Scout Leader and volunteered with 2 fire departments. He also has served several years as an Emergency Medical Technician for the Ashland Ambulance Service.
   He began his law enforcement career in 1995 by joining the Ashland Police Department.  In 2001, he went to work for the Aroostook County Sheriff's Office.  "I began patrolling all areas of The County, from The Valley all the way to Molunkus," said Montpetit.   
   In the spring of 2015, Montpetit resigned from the Sheriff's Office and took a break from law enforcement. During that time, he helped his wife operate two small businesses in Eagle Lake. 
   In 2017, he re-entered law enforcement, becoming the number two for a long time friend and former co-worker at the Washburn Police Department.   "I have over 20 years of actual patrol and investigative experience right here in our county.  Because of my time patrolling The County, I have a firm grasp of the dynamics here," said Montpetit.  "We are the largest county east of the Mississippi River, with several different sub cultures.  I understand the day-to-day needs of these folks, because I have been right here with them, helping them find solutions to their problems, every day over the years.  I have always gone at this job with a service-oriented, people-first mindset." 
   In addition to understanding the environment of a law enforcement officer, Montpetit is also familiar with the economic situations business owners are faced with and brings with him his experience at budgeting money - both skills a good Sheriff must have.  "I have held leadership positions in both Public Safety as well as in the private sector.  Budgeting for a small business gives me an edge," Montpetit explained.  "Running a budget with your own money gives you a real sense of urgency when it comes to fiscal responsibility.  There are no safety nets when running your own business, so you have to get it right."
   In order to expand the positive impact he wants to have on his community and all of Aroostook, the County native looks to the role of Sheriff as the best position to achieve those goals.  "I have enjoyed my time in public safety, but often times I feel like my hands are tied.  There's so much more that I want to do to help people, but I am limited as to what I can do in my current position.  I made the decision to look to be your Sheriff because that position opens a lot more doors and gives a lot more avenues to be able to help more people."
   Drug addiction is one of the biggest problems facing Aroostook County toady.  Montpetit says he would like to be more proactive about keeping people out of the destructive drug culture to begin with, as well as offer options for those who are entrapped by it to break free.  "I am saddened by the out of control drug epidemic that runs rampant here in our county, and all of the violence that comes along with it.  We are losing the war on drugs, and it's time that leadership takes a different look at things.  I want to bring the DARE program back into Aroostook County Schools.  This program worked well in its infancy, but it became outdated as the years went on and lost its effectiveness.  The program has been revamped and is now called "Keepin it Real" and it is based on real scientific research.  The US Attorney General has said that he wants to see the DARE program come back nationwide, and the Surgeon General speaks highly of this particular program.   It is time that we look at education now instead of incarceration later. Our children are our future and they deserve to be given the tools they need to grow into safe and productive members of society."
   At the County level, Montpetit knows that the housing and transportation of prisoners has become an enormous financial burden on the tax payers of Aroostook County.  He says the leadership must find responsible ways to meet these challenges.   "Northern and central police agencies must have a temporary holding facility available at all times to bring prisoners to.  Often times these agencies only have one officer on at a time, and it's unfair and unrealistic for them to have to go all the way to Houlton to drop prisoners off at the County Jail."
  Currently, the Caribou Police Department has served as a holding facility, but often they become full and cannot accept new prisoners in.  "I have already assured the Caribou Police Chief that when I am elected, I intend to immediately reinstitute daily transportation runs to shuttle their prisoners to the County Jail in Houlton, ensuring that room is always available for them to accept prisoners in from all other agencies.  Partnering with all of the local police agencies in this way is absolutely necessary in order for county law enforcement to effectively provide service to their communities"
  Montpetit also plans to work on bringing back the statewide prisoner transportation network that was referred to as "hub runs."  "These hub runs made it so that Aroostook County prisoner transportation units rarely had to travel south of Bangor.  This was a tremendous financial savings on our county tax dollars.  Safety is another concern when it comes to prisoner transportation.  If a unit has to travel in a snow storm to pick up a prisoner on a Sunday to be here in Aroostook County for a court appearance on Monday, I would much rather they only travel to Bangor as opposed to way down south." 
   As the son of a military veteran, Montpetit understands some of the challenges facing veterans today and thinks law enforcement should take those into consideration when dealing with them.  "The people here in The County are hardworking folks who always want to lend a hand and rarely ask for personal help. Because of this service mindset, we have a high ratio of military veterans in our population," said Montpetit.  "These men and women took on the task of standing up for our freedoms, and they bore that cross with honor and integrity.  Often times they have difficulties blending back into society after having been exposed to terrible things on our behalf.  We owe it to them to help in any way we can.  I plan to lead the charge in getting Aroostook County law enforcement officers the advanced specialized training that they need to be able to appropriately handle veterans with PTSD.  I will also work hard to have the services of the Veterans Court available to Aroostook County veterans.  Along with this, I would also like to partner with the Veteran Mentors of Maine, and assist them in any way possible to bring their organization into our county."    
   While being able to manage a budget is important for any elected officer, Montpetit understands the role of the top law enforcement officer of a county requires more than just that skill set.  "I believe there is much more to being Sheriff than the budgets and supervision of staff.  These abilities are very important but equally important is for the Sheriff to have a deep connection and compassion for the people, as well as a full understanding of the day to day needs of the people they are representing and serving. With your support I hope to be that Sheriff."