Back to Fort Fairfield Journal      WFFJ-TV      Contact Us
Presque Isle Acquires Bouncy House-Style Band Backdrop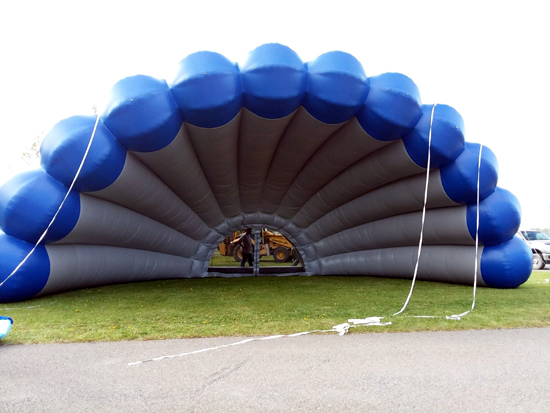 contributed photo
By:  David Deschesne
Fort Fairfield Journal, June 6, 2018
   The City of Presque Isle will be deploying a new band backdrop for their concerts at Riverside Park this year.
   The 43 foot-wide contraption is an inflatable "amphitheater" constructed under the same principle as children's bouncy houses and resembles something out of a Spongebob Squarepants cartoon.
   While it is shaped like an amphitheater, it cannot really function as one because the shell is composed entirely of inflatable balloon material and cannot reflect sound anywhere near as well as the hard shell of a conventional amphitheater.  The gray and blue bouncy house backdrop is manufactured by Wenger, who claims it "reflects more high frequency sound" but does not give a reference level of that high frequency sound for a starting point.
   Most bands today use P.A. systems to project their sound, thus an amphitheater, even a real, legitimate one is totally unnecessary.  Most professional acts today also use a stage that is dressed with a base of black backdrop curtain hung on trussing, which would have been a much more cost effective and professional-looking solution than this bouncy house backdrop.
   The bouncy house band backdrop was purchased by the Presque Isle Police Department using confiscated drug money.  The PIPD has been branching its law enforcement services into sound reinforcement over the past several years.  For the past two years PIPD Productions has been providing front of house sound for the parade announcers at Presque Isle's annual Holiday Light Parade - which is why nobody can hear the announcers anymore, even directly across the street from them.  Some have suggested PIPD stick with law enforcement and leave live sound reinforcement to those who actually know what they're doing.
   This writer has been providing sound reinforcement systems for bands and large outdoor events for the past 32 years and this Spongebob Squarepants bouncy house band backdrop is by far the most ridiculous thing I've seen in the concert production business—even by Aroostook County standards.