Sandy Hook Lawsuit Author Arrested
By:  David Deschesne
Fort Fairfield Journal, January 27, 2015
NEW LONDON, Conn.—The man who filed a federal lawsuit against the mainstream television news media for complicity in the Sandy Hook Elementary School Shooting Hoax was recently arrested under mysterious circumstances.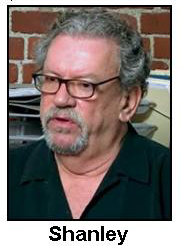 According to court documents from the State of Connecticut's Judicial branch, William Shanley, 64, was arrested on December 31, 2014 by New London Police for allegedly attempting to commit assault against a Public Safety/EMT worker, a Class C Felony.  He is also charged with Interfering with Officer/Resisting arrest, a Class A Misdemeanor; and Breach of Peace, 2nd Degree, a Class B Misdemeanor.
   Shanley has pled Not Guilty to all charges.
   The arrest has curious timing since it occurred just days after Shanley filed a complaint in the U.S. District Court for the District of Connecticut alleging various television news networks and newspaper publishing companies were involved in a conspiracy to help rogue agents within the U.S. and local governments stage a mass shooting and present it as real at the Sandy Hook Elementary School in Newtown, in December, 2012.   This has led some to believe the arrest to be contrived in order to at once cause a chilling effect against those who would challenge the government's and mainstream media's "official" accounting of the event and at the same time reduce the effectiveness of Shanley since he is representing himself, pro se, in the District Court lawsuit against the mainstream media giants.
   The Fort Fairfield Journal attempted twice to contact the New London police department to request a copy of the arresting officer's incident report, but the police department has failed to respond or provide any further information.
   Shanley is currently being held on $50,000 bail, which he had not been able to raise so he remains in jail.   His pre-trial hearing is scheduled for February 4 at 10:00 a.m. at the GA 10 court in New London.